With our lives revolving around smartphones, it is common how concerned we are about our privacy. Be it clicking pictures or taking a video, we all do it more often. However, sometimes we capture some moments that we don't want to share with anyone. But, if you have a friend who loves to poke their nose whenever they get their hands on your device. Maybe, it's time that you get your hands on the apps to hide photos.
Well, several great apps can help you hide your photos and videos. And here, we have decided to give you a list of apps to hide your photos and videos.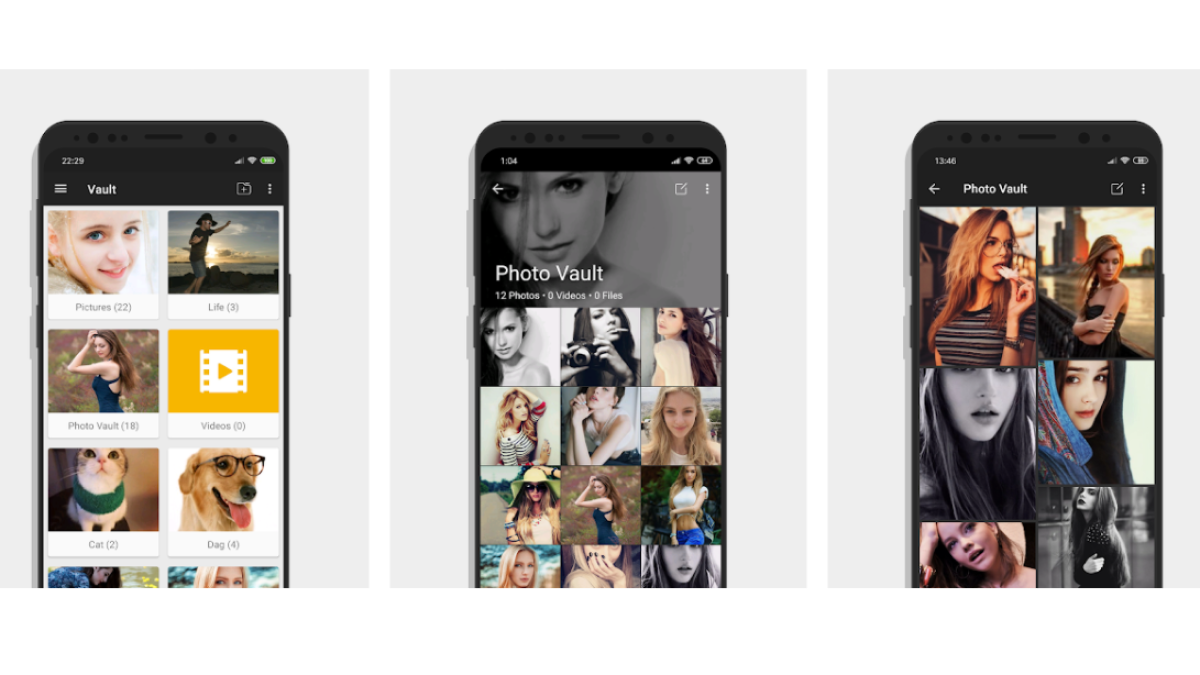 10 Best Apps To Hide Photos And Videos
If you feel concerned about your privacy and are looking for something that will protect your photos and videos from others. Well, in that case, the best option is to have a third-party photo and video vault. So, let's take a glance.
1. KeepSafe PhotoVault
KeepSafe Photo Vault is an Android app that is safe to use and works efficiently with a simple interface. The app has gone through massive updates to make it cleaner and better to use. It offers you to lock your photos and videos using patterns, pins, and even fingerprints. Moreover, KeepSafe has tons of advanced updates such as fake login, break-in alerts, and much more.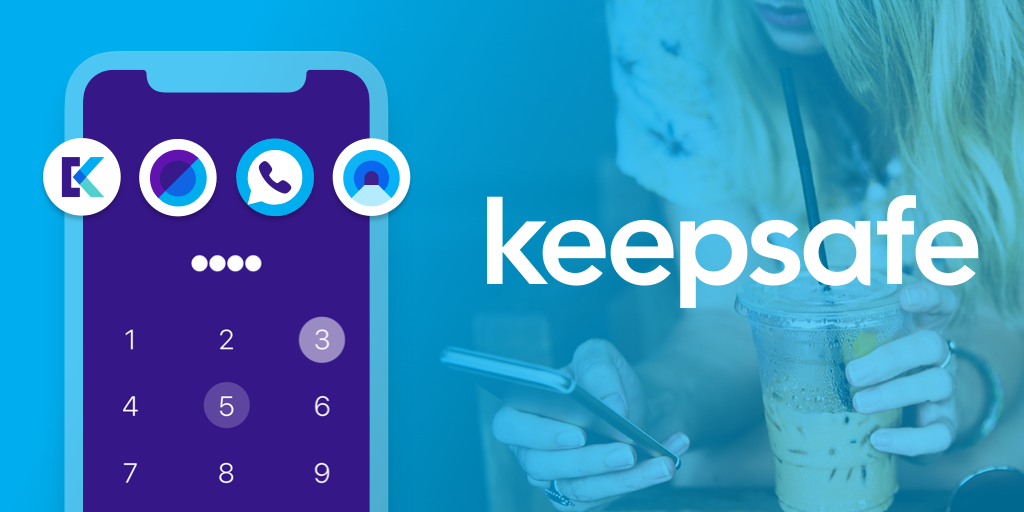 The app has a clutter-free and well-organized folders list. So, you can choose whichever folder you want to protect your photos. It also provides you with a private cloud space where you can back up your photos without anyone knowing.
Download KeepSafe
2. LockMyPix
The next best app to hide photos that have caught my attention is LockMyPix which guards your photos and videos against others. It works with a military-grade AES encryption standard where you can hide your photos using PINs and Patterns. It enables you to encrypt your photos and videos directly on your home screen. The add-on feature of the app allows you to unlock your device through fingerprints, shake to lock the vault, and much more.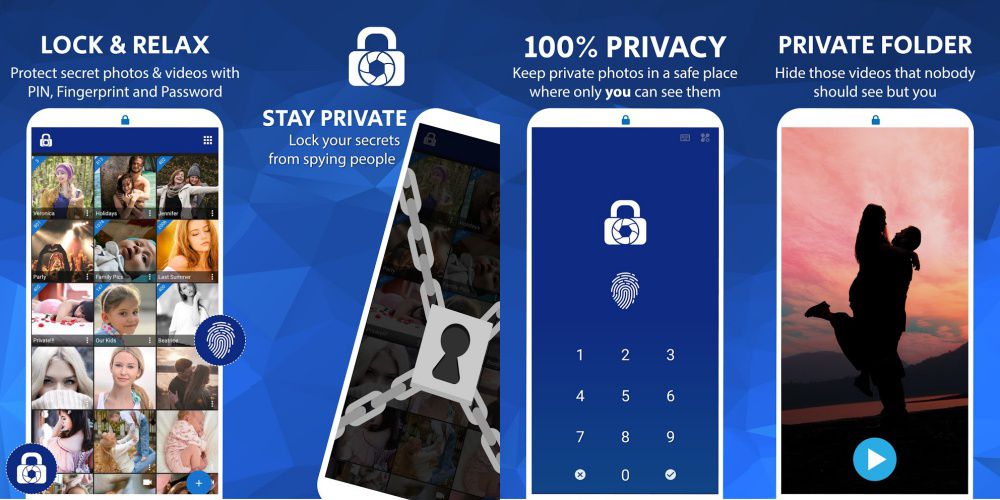 The plus point in security about this app is that no one can take screenshots while using this Photo vault. Therefore, it is termed the safest photo vault. The pro variant of LockMyPix lets you use the fake login feature to confuse others.
Download LockMyPix
3. 1Gallery
1Gallery is a photo gallery app that can be used to manage photos and videos. However, the charm of this application is the gallery vault that hides photos and videos with strong encryption. The app has a beautiful user interface made with a modern approach. It supports different file formats like SVG and RAW.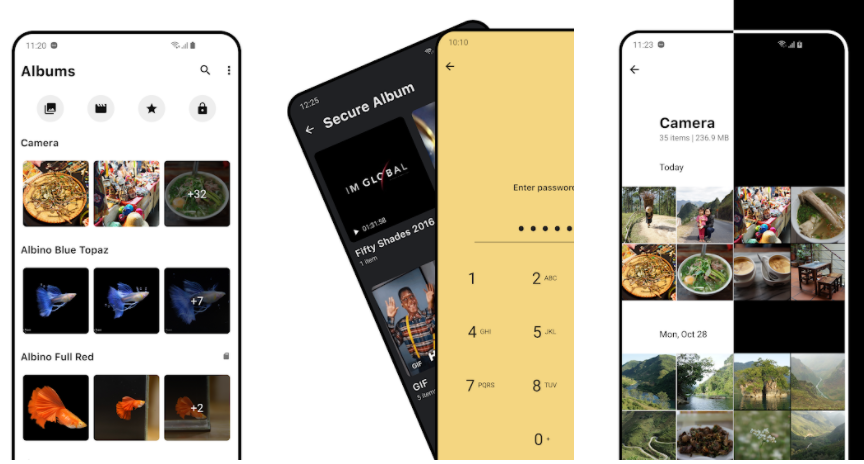 It has three password modes- Fingerprint, Pattern, and PIN. If you use this app, no one will be able to find the media file ever. Not even after rooting your device.
Download 1Gallery
4. Sgallery
Sgallery is one of the most powerful apps that you should check out if you want to hide photos and videos. The app works on an AES encryption algorithm to encrypt your photos. Also, this app holds features like a fingerprint to unlock, intruder selfie, time PIN, fake password, custom wallpaper, and, shake to close with its premium subscription.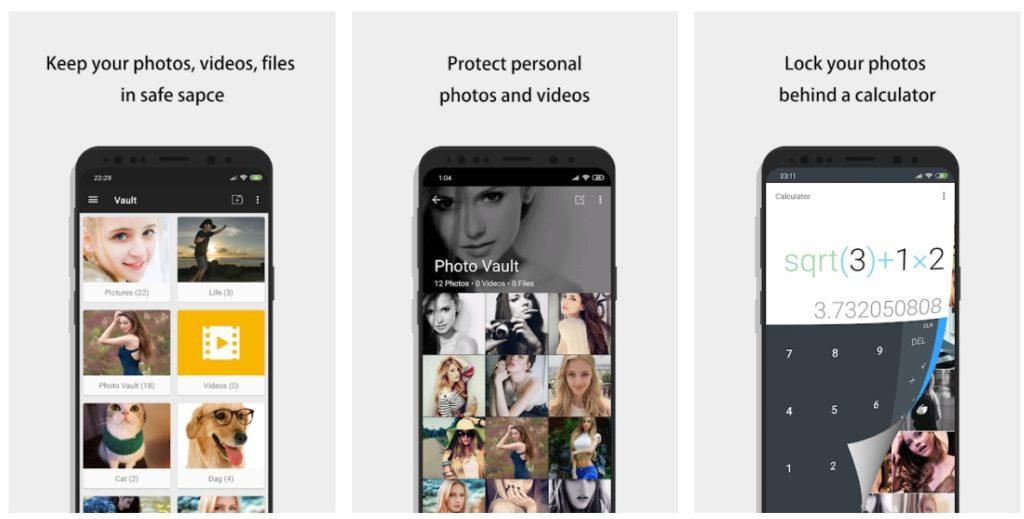 The Sgallery has a feature through which you can disguise it as a converter or calculator. It also has a built-in web browser and notepad for safe browsing.
Download Sgallery
5. Safe Folder of Google Files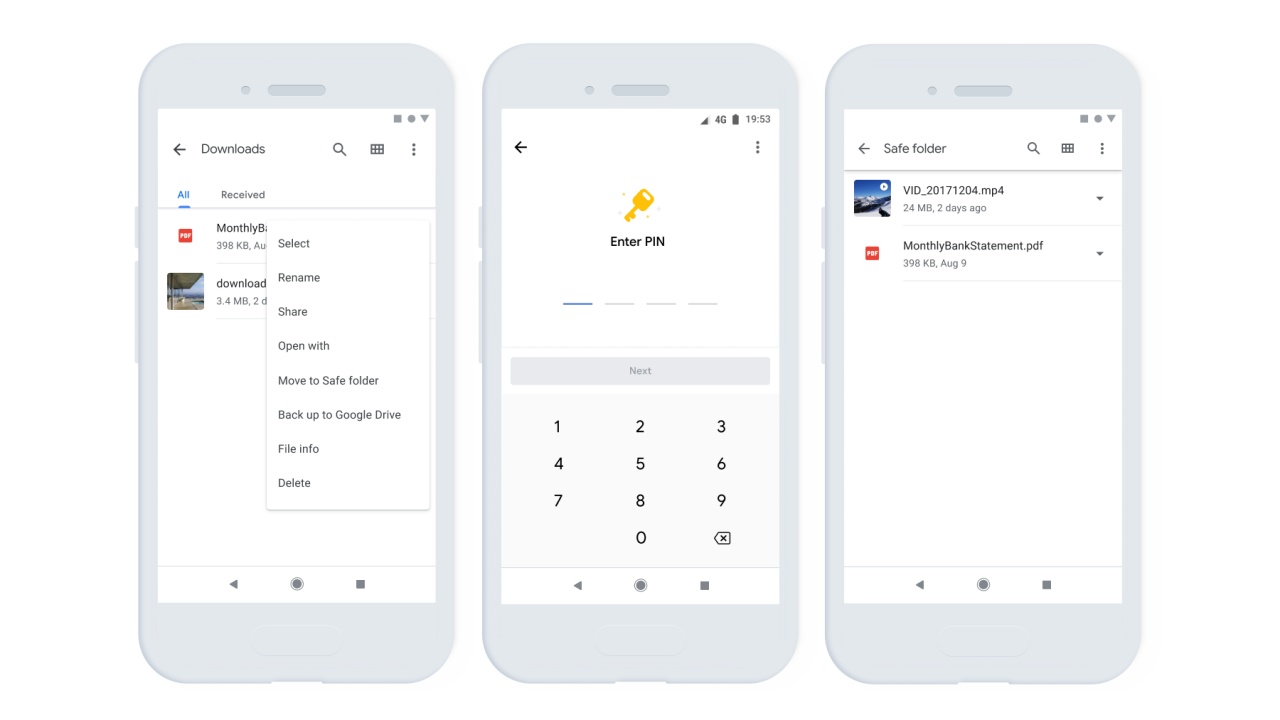 Recently, Google has added a convenient Safe Folder to hide your sensitive photos, videos, files, audio files, etc. Here, you need to set a 4 digit pin code to secure your folder. You can find this Safe Folder in the browser tab. However, you should know that in case you forgot the PIN, there is no password reset mechanism.
Download Safe Folder of Google Files
6. Vaulty
Vaulty is the next well-known and reliable photo/ video hiding app that works well. Just go to the app, select the media files you want to hide, and password-protect it from other people. Whatsmore, the app captures the shots of the intruders who have tried to access your vault but failed. So the moment you open the app, you will know who tried to intervene in your private space. This feature is free for its users.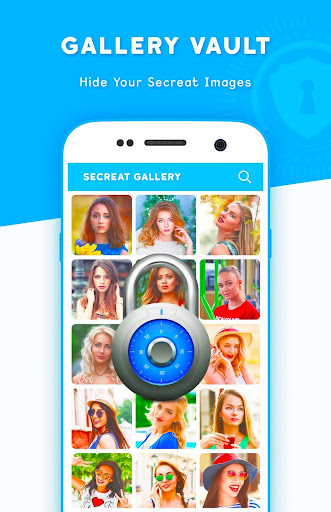 However, if you want to back up your files on the cloud and remove the ads from this app, then you will have to upgrade to Premium subscriptions.
Download Vaulty
7. Calculator
Calculator by FishingNet is a unique app that looks and acts as a Calculator. But behind it, the app has a secret and secure vault that hides your photos and videos without anyone knowing about it. Here, you can set a numeric PIN on your calculator and then press the '=' key to open the vault.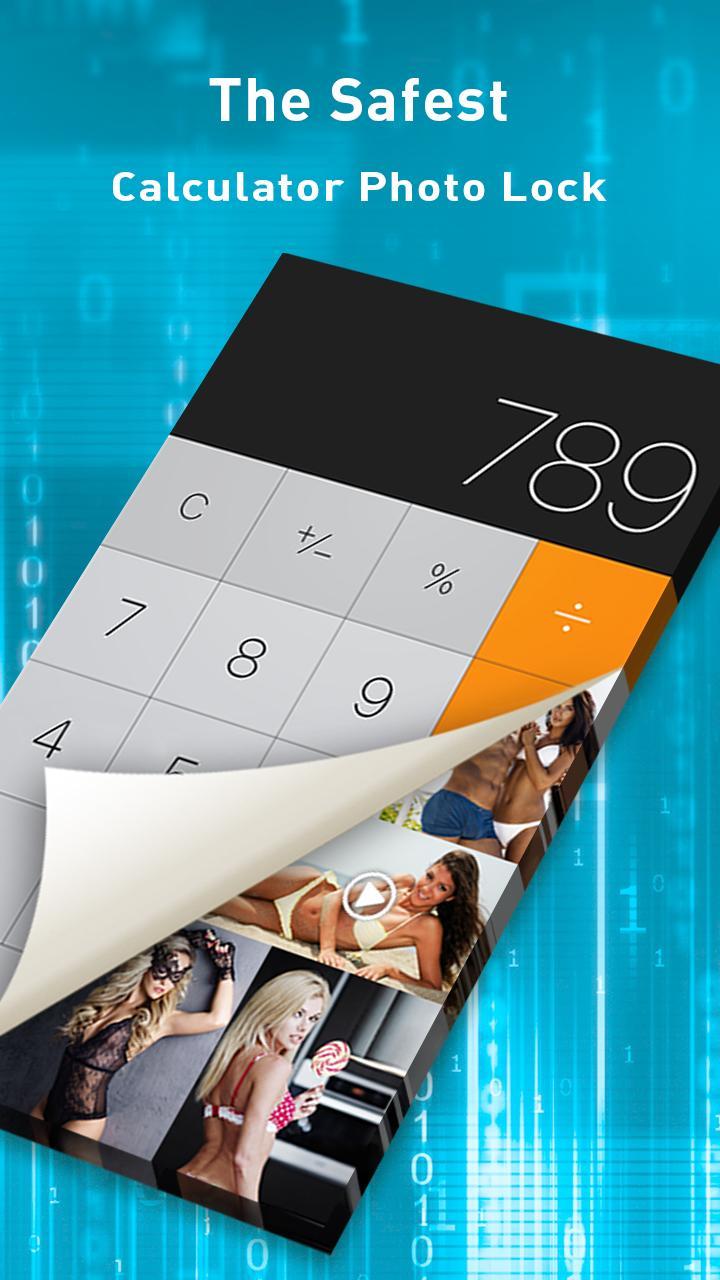 The app has a feature of Intruder Selfie that allows the app to take the selfie of the person who was trying to access your photo vault. It also supports features like shake to close the app, fake vault, and much more.
Download Calculator
8. Hide Something
Hide something is an app that works hassle-free to save your photos and videos on your Android device. Here, you can save your photos and videos using passwords, PINs, and fingerprints. The app creates invisible folders where you can transfer photos easily.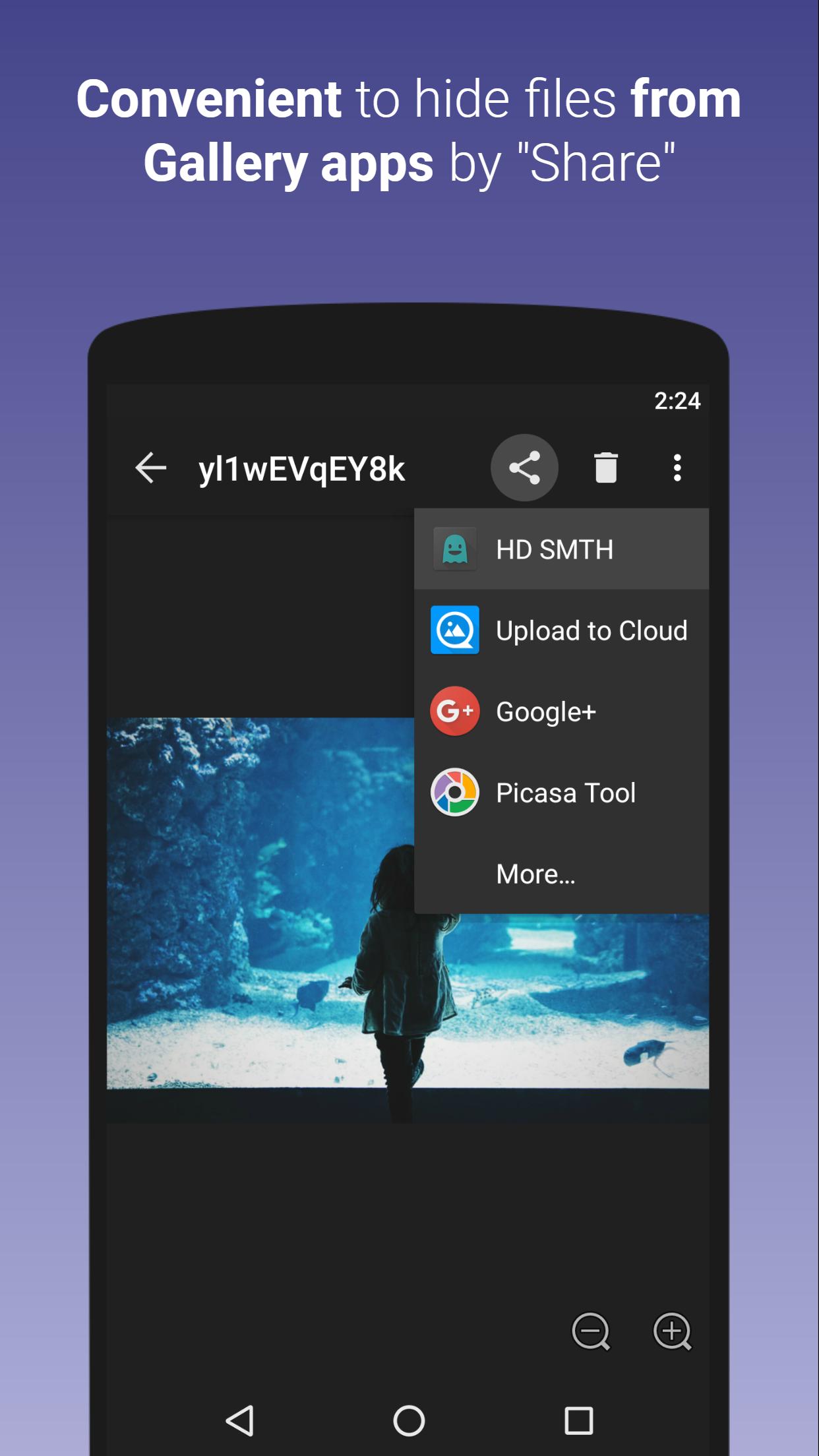 They also provide access to a collection of themes, image viewers, fake logins, and different media file types.
Download Hide Something
9. PhotoGuard
PhotoGuard is one of the best apps to hide photos and videos from the prying eyes. It works on AES encryption which helps you secure your media files. It also offers cloud backup services for its users. You can save your photos and videos using Passwords, Patterns, Fingerprints, etc.
And the best thing is you can add a layer of security to your vault. For example, you can password protect your folders in the vault.
Download PhotoGuard
10. Andrognito
From the name Andrognito, we can understand that it is an abbreviation for Android+ Incognito. It uses the military-grade AES encryption standards that hide your photos and videos. You can also access the vault by backing up on their cloud. The free version helps you hide your media files in one vault.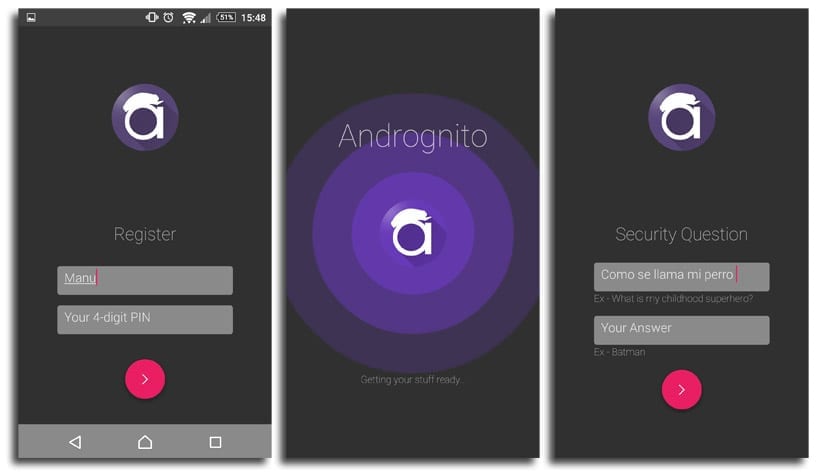 However, the pro version holds more features like creating more vaults, access to cloud backup on multiple devices, and removal of intrusive ads.
Final Words
And that's the end of today's post. Keeping your photos and videos in your secret vault is the most convenient way to maintain privacy. So, don't be stressed anymore about it. Just start using these above-listed apps to help you relax from any kind of anxiety. Also, let us know in the comment section which of these apps to hide photos fulfills your criterion.