Here I've got a little secret tool for you that will come in handy if you want to do multitasking, or if you get tired of clicking the mouse, or if you want your name in the high score list. Yes, you read it right you can use an auto clicker for Roblox for getting high scores by using fast auto clicks for attacking the enemy.
So here I have enlisted some of the best auto clickers for Roblox which you can easily download and use. You can apply this auto clicker if you want to stay in a game but also have some other task to complete and you can even make the software run the whole night using auto clicker while you get a good night's sleep. Let's dive right into the list.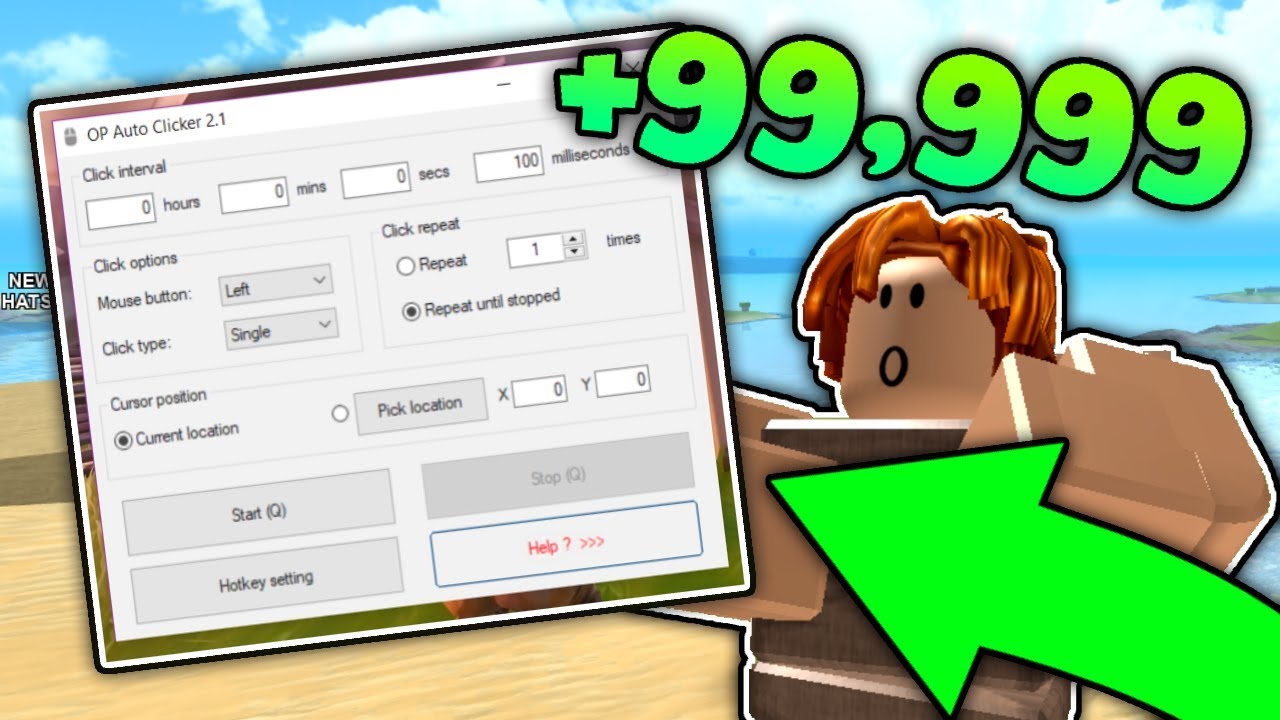 Best Auto Clicker for Roblox in 2022
Before we get on with our list let's clear some of the most common doubts regarding auto clicker for Roblox. It is not illegal to use auto clickers though it may be unethical, the auto clickers we mentioned are safe to use and among the best ones. You can hence use these auto clickers mentioned below comfortably.
OP Auto clicker 3.0 is the updated version and is among the best auto clicker for Roblox. It encompasses numerous customization and features including a place for the clicks, how many times the click is to be repeated, kind of click, choice of button click, the interval between clicks, and many other features.
In this, you can change the hotkeys straightforwardly and hotkeys even function when the software is working in the background. Clicks can be set as single, double, or even triple-click.
You can select the mouse button for clicking and the number of times the click should be repeated which can also be unlimited. A place for the clicks can be fixed or as per the cursor movement.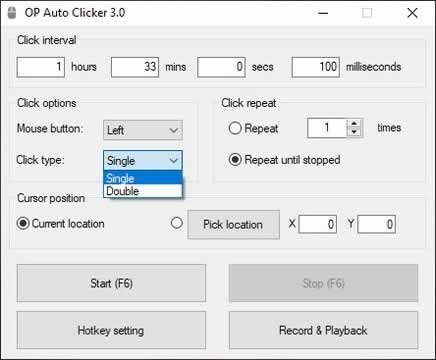 Though its name suggests it is for Roblox but you can use it for any 3D game and it works really smoothly. You can click swiftly using this software and can use it to click continually without doing it yourself.
You can even use it for staying online in-game without actually being present hence do multitasking and saving time. It allows you to regulate the time between two clicks and also runs in the background with hotkeys. You can simply control the navigation.
Forge Auto clicker has a very user-friendly interface and is regularly updated which you can download freely. It has a very good support system and comes with numerous features which also include very swift clicks. You can set the clicks as double clicks and many other features are inculcated.
The best thing about it is it has no ads. It automatically saves the settings so even if you forget to save the settings after making changes you don't need to worry. It is very smooth working with no ads, virus, or other malware. It is very small in size so takes up little space and CPU usage. The number of repetitions can be set from a few to unlimited.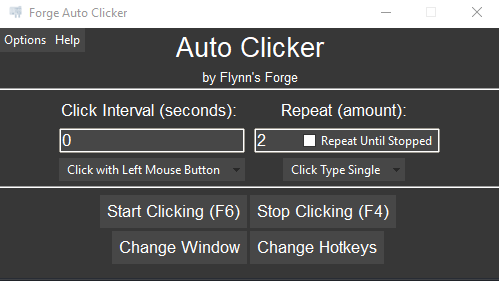 It is a great auto clicker that is compatible with both Windows and Mac. It is a free auto clicker but has very simple configurations and customization available. Using this you can generate accurate and efficient clicks and can also create the clicks as per your directions.
You can use this auto clicker efficiently in Roblox or for other applications also. It can be used to customize with great accuracy i.e. it shows even the X and Y coordinates of the pointer and lets you enter numerous clicks positions with settings to set the time interval between them.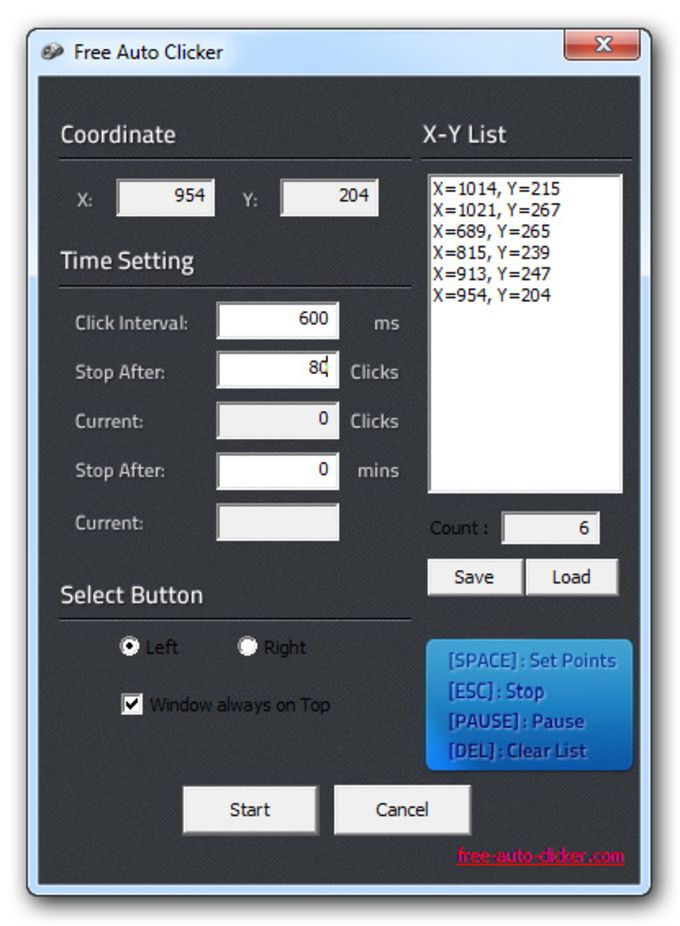 Fast Mouse Clicker Pro is compatible with PC and Android devices and can be used without any charges. You can even increase the durability of your mouse by letting this software do some of its work. This one is appropriate for games in which you need speedy clicks.
It can generate as many as 100,000 clicks per second which can be also seen as 1-1000 mouse events. Another great feature of this is that it not only includes the right click and left click but also the middle one. You can set any key from the keyboard or mouse to trigger or start auto-clicking.
GS Auto Clicker is a Cnet Editors' recommended and is rated 4 stars. You can choose a hotkey of your choice which can be used to initiate auto-clicking. It lets you record the clicks and you can then use this pattern to automate the clicks. You can choose whether you want a single click or double and set the time for which you want the clicks to continue. You can set the time and intervals even based on milliseconds.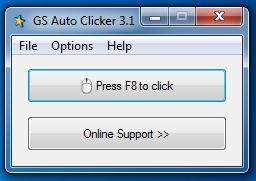 Perfect Automation is an imperf-orate auto clicker as it inculcates a wide range of features along with auto-clicking. It can be said as a man of all work as it not only has the function of auto clicker but various other computer automation functions. You can direct this program to imitate both mouse and keyboard patterns.
It also has an additional function of generating executable files, imitates numerous visual commands, and many such functions. You can even schedule your whole computer time like when an app or a program should open and set the time for the same making it a very versatile tool.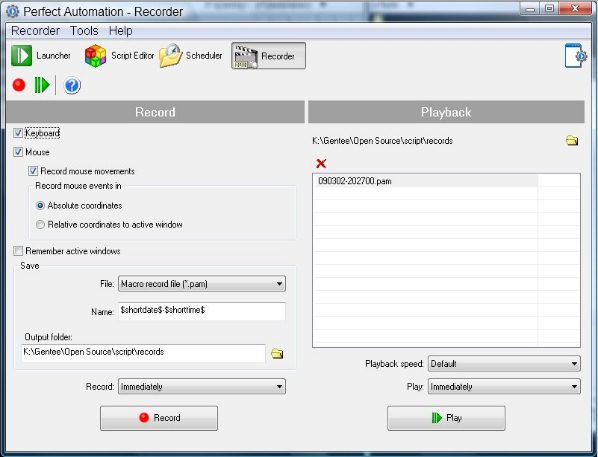 If you are looking for a simple and compact auto clicker then this is the most appropriate one. It does not concern with other things in the computer and only provides you with the function of an auto clicker making it perfect for small and uncomplicated software which takes up very little space in your computer.
It has one of the best customization options available with clicks not being limited to right or left only. You can try its fastest auto-clicking by applying its 500 milliseconds setting. You can even see where it is auto-clicking by the red spot on the screen and can get faultless auto clicks.
This one also comes under the category of the simple, uncomplicated but perfect in its job auto clicker. One of the best features of this auto clicker is that it not only imitates the clicks which you record but can also imitate the typing and other actions which you want it to do.
There is a button on the top-left side of the tool which can be used to record the actions you want it to imitate. Another fancy feature of this auto clicker is using it you can even set it to do a set of actions in a loop by clicking on the loop box and the number of times you want the loop to continue. You can also customize the auto-clicking as per your requirements.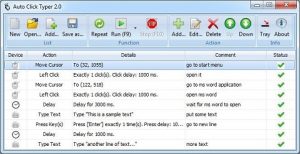 MurGee clicker is the perfect tool for you if you want to maximize the customization options possible. Using this app you can not only set the clicks as right-click or left-click but also a middle button, hold left button, hold the right button and hold middle button, and many such options and similarly you can get numerous customization options regarding other features.
It does not do many jobs but does THE job it is made for perfectly. You can also set the interval between the clicks, the number of clicks, hotkeys for initiating auto-clicking, and many other things.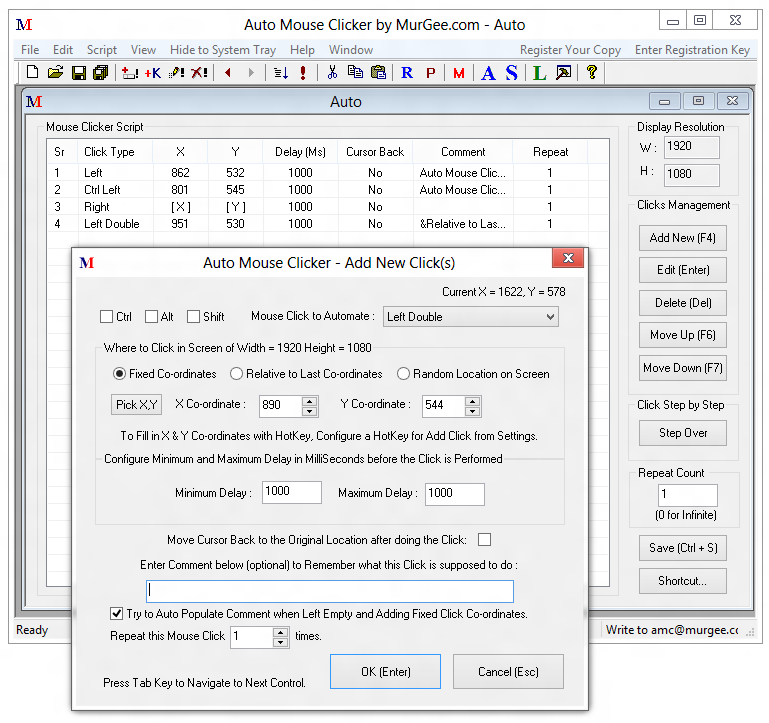 Roblox Auto Clicker Free Download – Top 13
Along with the aforementioned auto clicker for Roblox here are some other options which you can give a try and choose the best one for your requirements. The auto clicker can be used for a wide range of tasks which I have already mentioned so you can use these auto clickers to their fullest.
Final Words
Voila! These were some of the best auto clickers for Roblox that I listed for you. I hope that these were helpful to you and will help you in scoring high scores and getting your name on the leader board or maybe in creating one of the games which you are trying to create but couldn't due to time limit and other engagements.