Are you looking for FuboTV free trial? Here we listed down some ways to get a free trial of FuboTV. Who doesn't want to watch their favorite movies and TV shows, but many times it becomes difficult for us to stick to a single streaming platform by paying a considerable amount of money.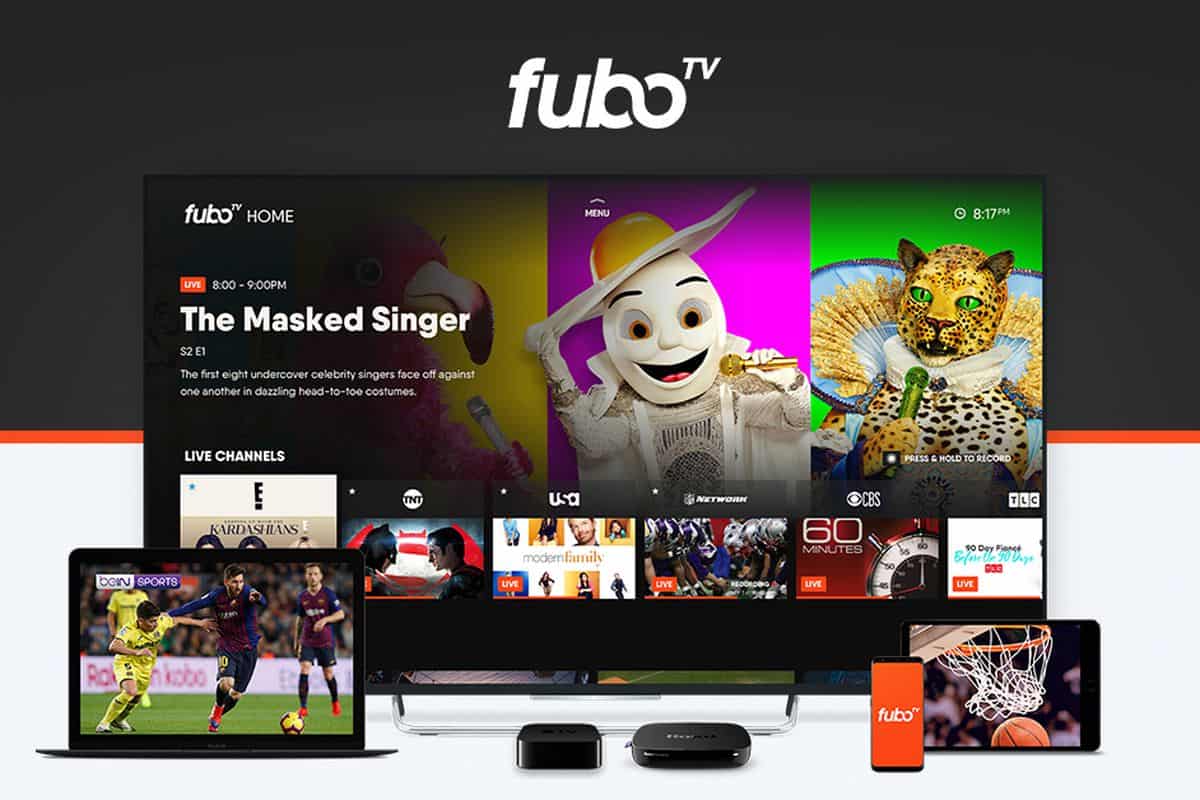 Before buying the plans offered by streaming platforms, it is absolutely normal to have a look inside their collection. If you are looking ahead to try FuboTV for a while and want to avail FuboTV free trial, you are on the correct page.
We will tell you everything about FuboTV you want to know, in just a few minutes. You can have an experience with the application which will help you decide if it's worth your hard-earned money.
What is FuboTV?
Before explaining any details, let's give you a walkthrough of its introduction. What exactly is FuboTV? FuboTV is an American streaming TV channel. If you are looking for something which can show you movies, TV shows, sports, and comedy, you are reading about the perfect name.
FuboTV is a one-stop channel that delivers it all. With the rise of entertainment needs, it has also gained popularity among enthusiastic viewers. Since you pay for its subscription it is a legal and trustworthy platform.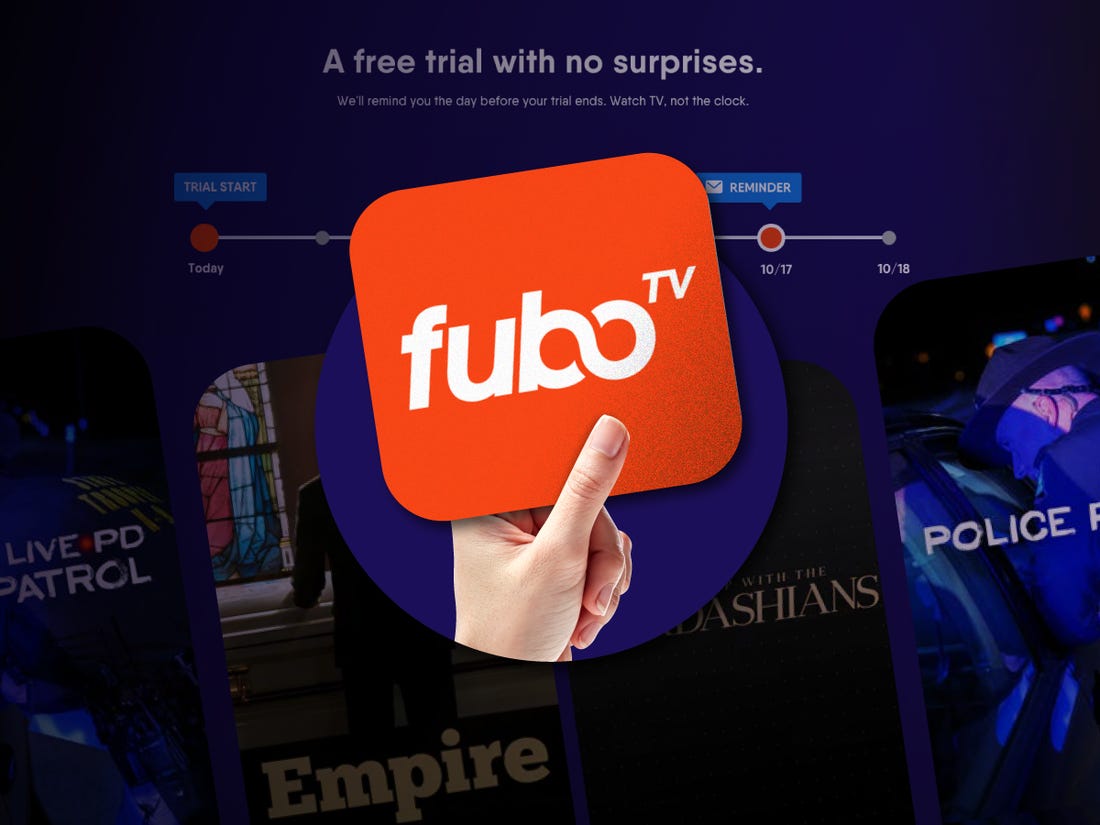 The application works effortlessly on all major platforms and operating systems. FuboTV application can be used on a PC through any web browser.
It is available on Google Play Store as well as the Apple App Store. And thus, you can easily use it on smartphones, iPhones, iPad, Android TV, and much more. It is also supported on Microsoft Xbox. The developers are working on the application to make it a universally compatible app.
Can I Get A Free Trial?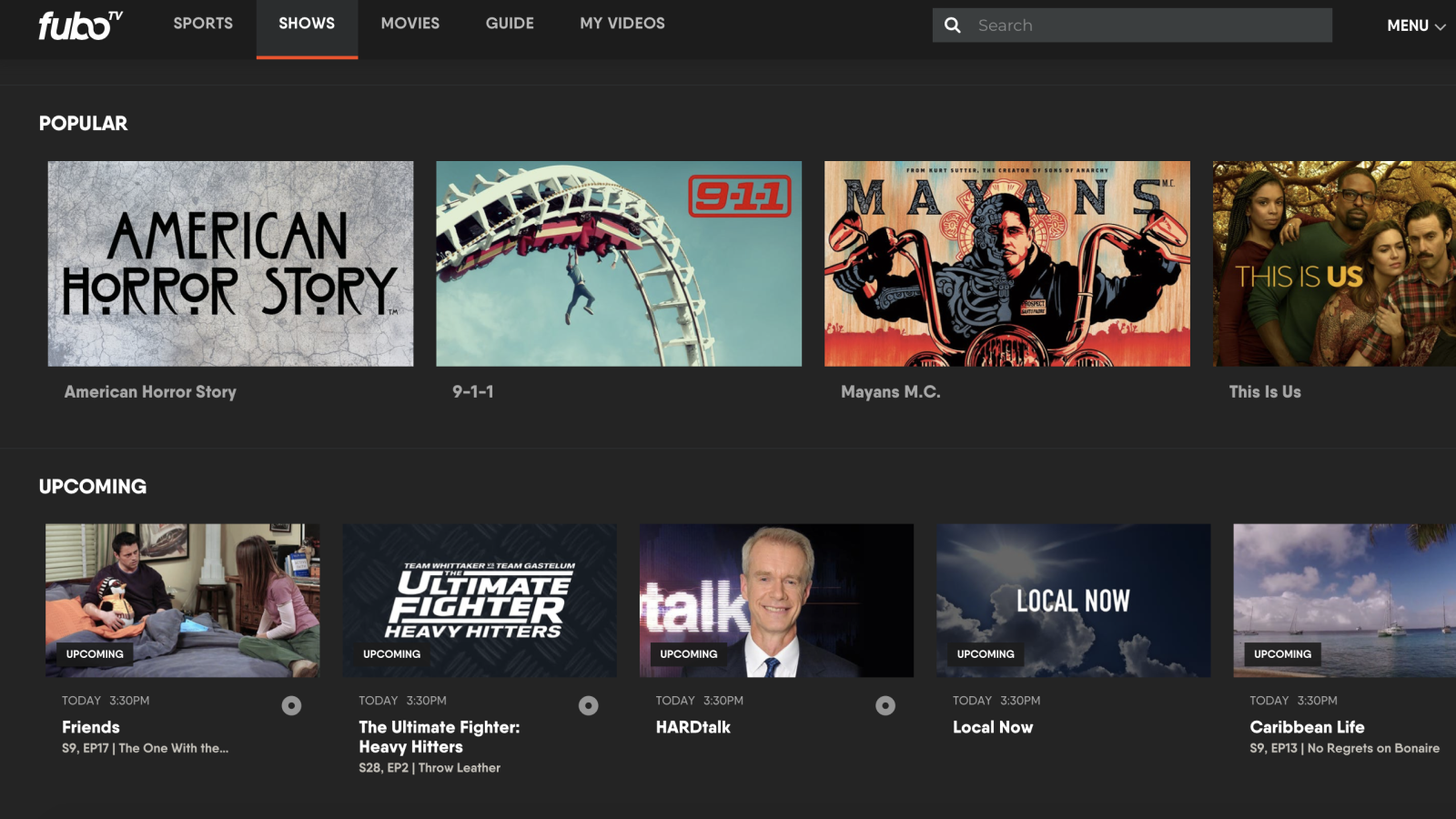 You might be thinking if you can avail a FuboTV free trial. And yes, you can. Everyone signing up for the first time can choose to have 7 days fuboTV free trial. You can sign up with your Google, Apple, or Facebook accounts. You just need to provide your personal details and then choose "Fubo Family".
With the Fubo Elite plan, you don't get a free trial period. After selecting the package, enter your payment details for further transactions. And you are done, with a FuboTV free trial.
Start watching whatever you want. The company will send you a mail before charging for a month ahead of your trial period. To avoid any mishap, we would suggest you mark the 7th day on your calendar.
How To Check Your Trial Expiry?
If you don't remember the date when you started your trial pack, you won't get a hint and you will be charged for the subscription. It is always recommended to keep an eye on the date when the FuboTV free trial period comes to an end.
You might sometimes get confused between dates. Follow the below-mentioned steps to find out when your FuboTV free trial period is going to end:
Open the FuboTV app.
Go to Profiles.
Choose the current profile and go to 'My Account.
The number of days left for trial expiry will be displayed there.
Bookmark the date to avoid unintended expenses for paid subscriptions. If you don't want the FuboTV anymore, cancel the subscription 1 day before the trial ends. This will always keep you on the safe side.
If you wish to continue with FuboTV, keep watching and the amount will be deducted automatically for the plan opted.
FuboTV Subscription Plans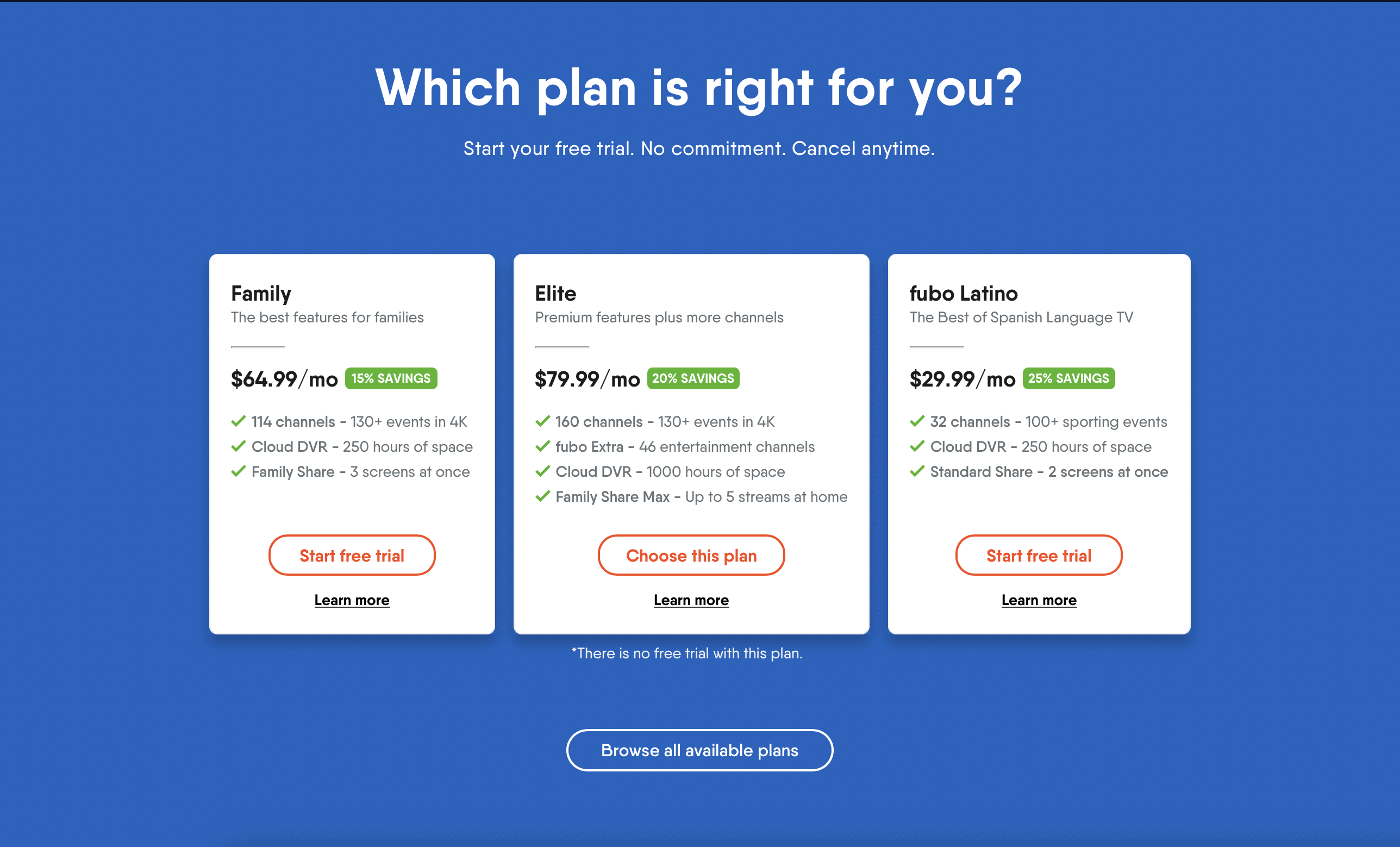 So now when you know so much about FuboTV, let's introduce you to its plans and pricing for the membership. You get three different options to choose from when you are paying for a subscription. The options available are:
1. Fubo Family
In this package, you get 95 channels to watch, anytime and anywhere. For this entertainment package, you will need to pay $64.99 a month. With the Fubo Family bundle, you can stream on 3 different devices at once. You also get 500 hours of cloud DVR storage with this purchase. This includes most popular entertainment offering channels like MTV, Discovery, NBA TV, Fox Sports, BBC, CNBC, CNN, and many more.
2. Fubo Elite
With Fubo Elite you get to stream a bunch of around 150 channels. For this bundle, you need to pay $79.99 a month. With this package, you get 1000 hours of cloud DVR storage and the freedom to stream on 5 different devices at a time.
It further adds more entertainment from channels like Comedy Central, Nickelodeon, Fight network, Gol TV, NFL Red Zone, and many more names.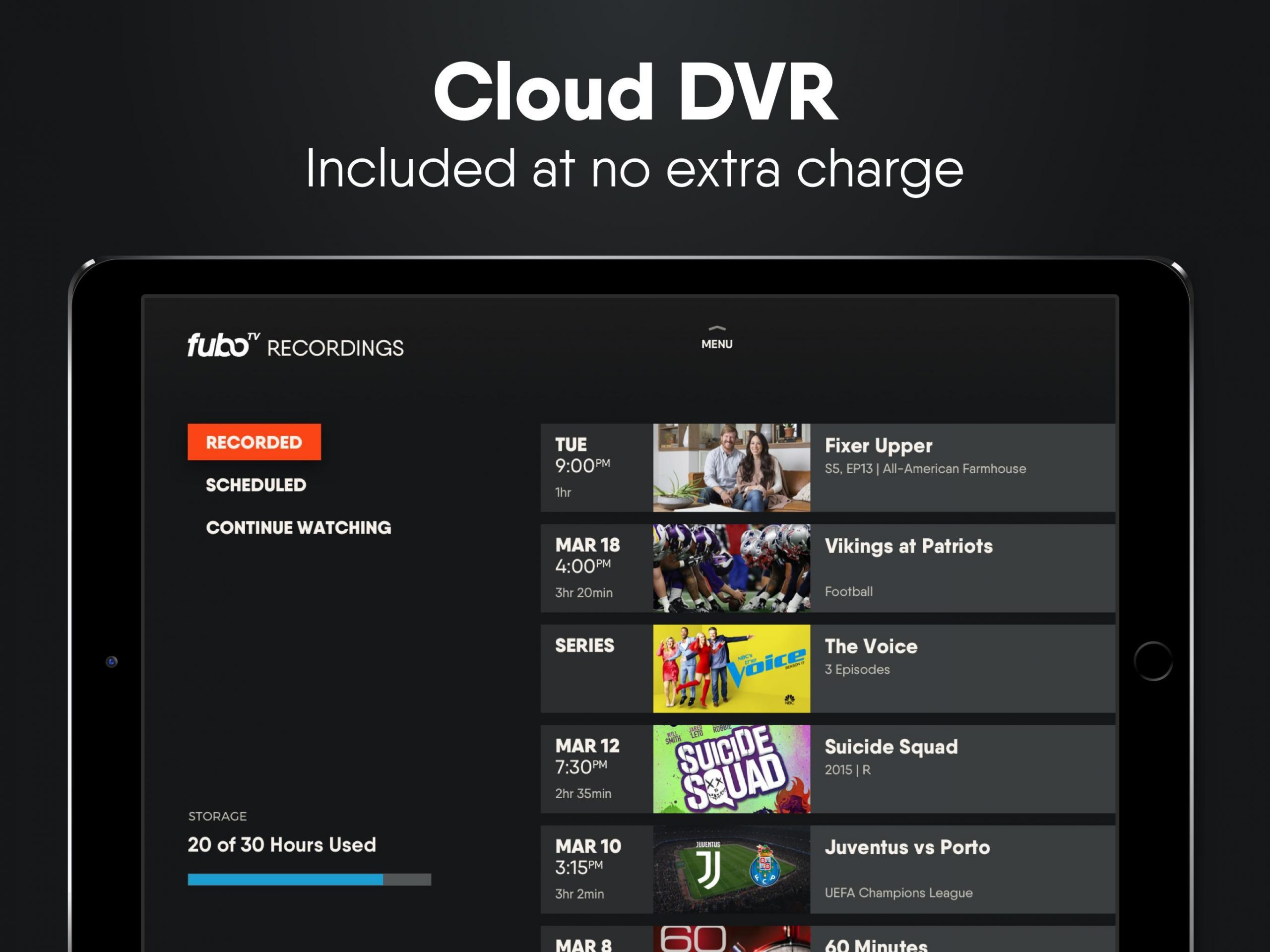 3. Fubo Latino
This is an all-around Spanish subscription. You are charged $29.99 for 32 channels to watch. With this plan, you can binge-watch your shows on 2 different devices together. You also get 250 hours of cloud DVR storage with this package.
How To Cancel FuboTV Subscription?
If you are a new user and are using FuboTV free trial offer, you are free to cancel it any moment you wish to do so. You just need to follow the below-given steps:
Login with login details in the application or browser.
Go to the My Account section.
Open the Subscription menu.
Click on 'Cancel Subscription' and then again click on Cancel.
Select the reason which suits you most and proceed.
Finally, click on Continue. You will shortly receive a cancellation mail at your provided email address.
Once you have used FuboTV free trial, you can't use it again with the same email address. Next time you will directly be taken to the plan selecting a page for choosing the package of your subscription.
Final Words
So now we have enriched you with all the required information you wish to know about FuboTV free trial. We hope this has been helpful for you. If you still have any questions about FuboTV, shoot them below in the comment section.