Shopping online has become a new trend these days. From stalking your brands to getting a customized T-shirt, you can ask for what you desire. And what's best than having something exclusively designed just for you. The constant demand for creative and unique designs by customers has made print-on-demand sites like Redbubble extremely popular these days.
However, if you are looking for more such sites, today's write-up is for you. Here, we have curated a list of 20 alternatives to Redbubble. So, let's take a look!!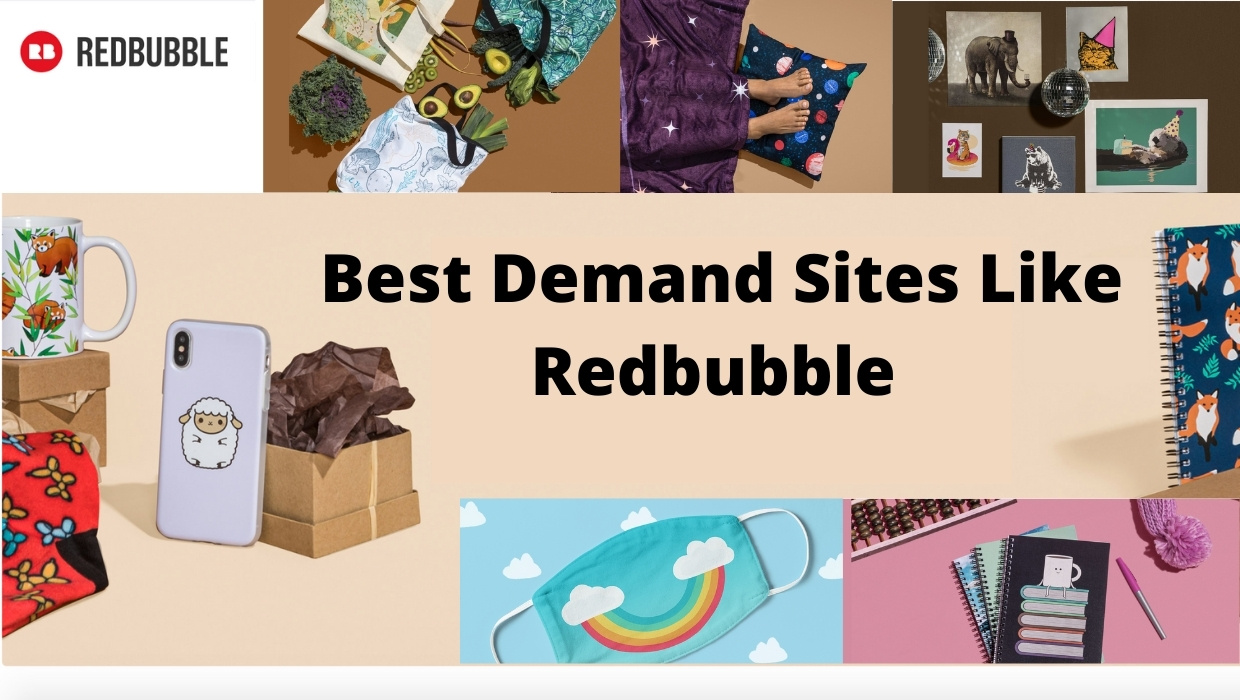 Best Sites Like Redbubble In 2022
Redbubble connects lakhs of artists and designers with customers who love customized designs on their products. The artists can create and upload their work on the site for the customers. If the customer purchases the products, the artist will be paid for their work.
However, several other popular sites offer print-on-demand services as well. So, let's dig into some best options for print-on-demand sites like Redbubble to enjoy:
1. Zazzle
Zazzle is one of the oldest print-on-demand sites eligible for being one of the best Redbubble alternatives. It has been in collaboration with some big gigs like Disney and Hallmark in the past. And hence it can be said to be one of the most trustable sites available in this category.
The site offers a huge list of categories and products to choose from. For buyers, it is a simple and user-friendly site where you get high-quality products, be it wall art, business card, phone cases, etc.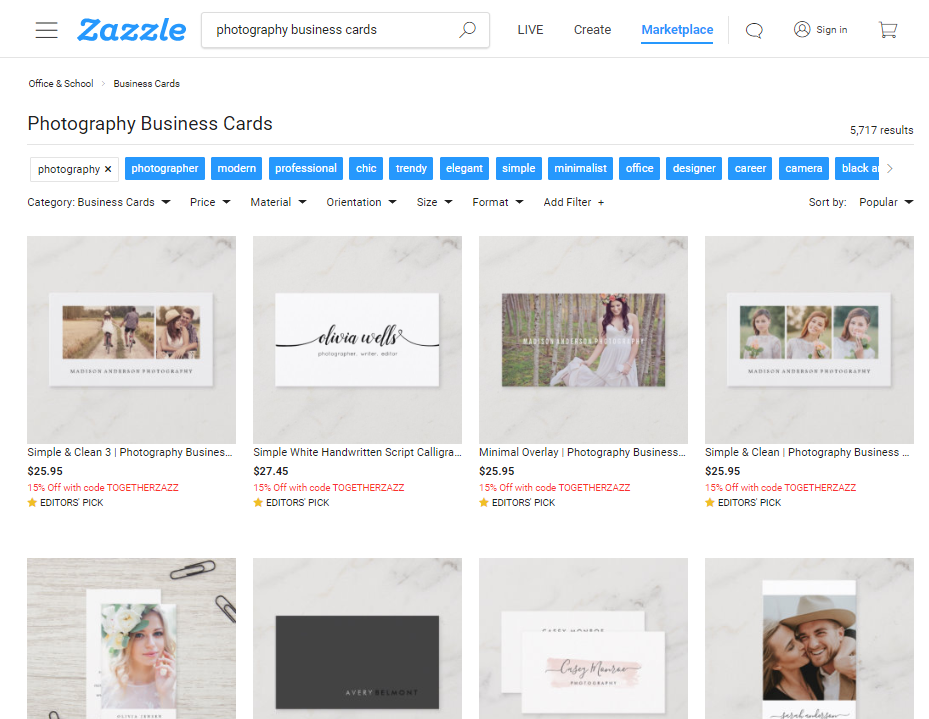 Besides, Zazzle can even help you with earning money as well. From affiliate marketing to being a manufacturer or designer yourself. This site has loads to offer. So, if you have some pretty good design ideas, then check out this site once.
2. Printful
Printful is a POD and dropshipping website with a lot to offer if you are looking to build your own brand. The offers of warehousing and fulfillment services keep the website overloaded with customized stocks. And it is for sure that you will find some amazing and unique designs in the store.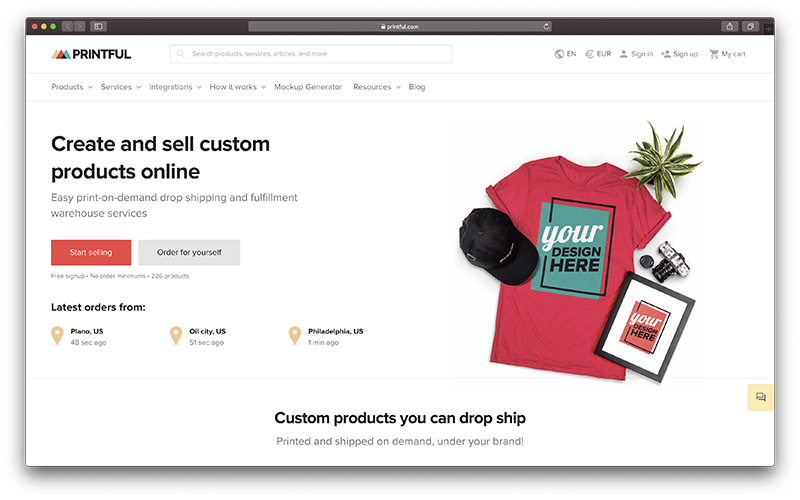 The website holds no limits to whatever you want to order. Hence, you get to choose from all the customized ranges of prints and get them at the lowest shipping rates.
3. Society6
Let's head to the next one on the list of print-on-demand sites like Redbubble, which is specially designed for an artsy crowd. Society6 not only offers a customized range of mugs, yoga mats, and home decors but also provides huge discounts on the products. So, if you want artwork on some household items like shirts, clocks, and pillows, then the site is all yours to explore.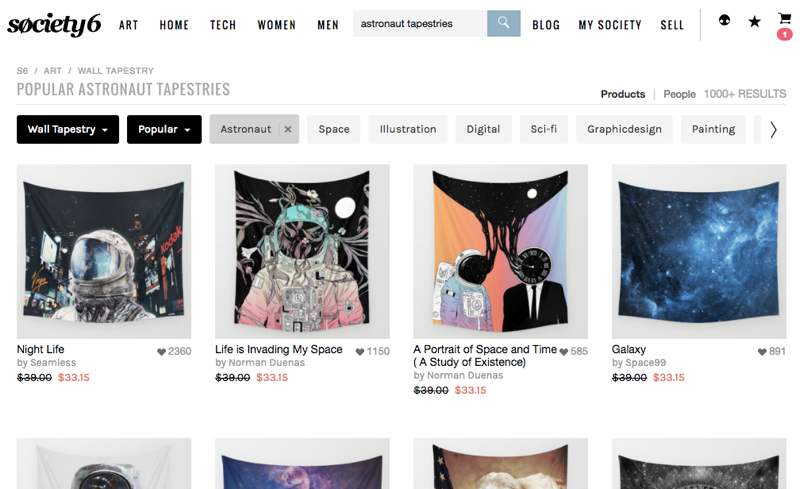 Besides, it is the best platform if you are looking to monetize your artistic creations. All you need to do is create your account, and you can start selling your designs right away.
4. Threadless
With robust print-on-demand product catalogs and hundreds of thousands of artists, Threadless is yet another site where you can sell artworks from artists. Started with huge success on millions of t-shirt sales, the site has grown a lot in the last few years. In addition, there are other product ranges on the site like home decors, accessories, etc.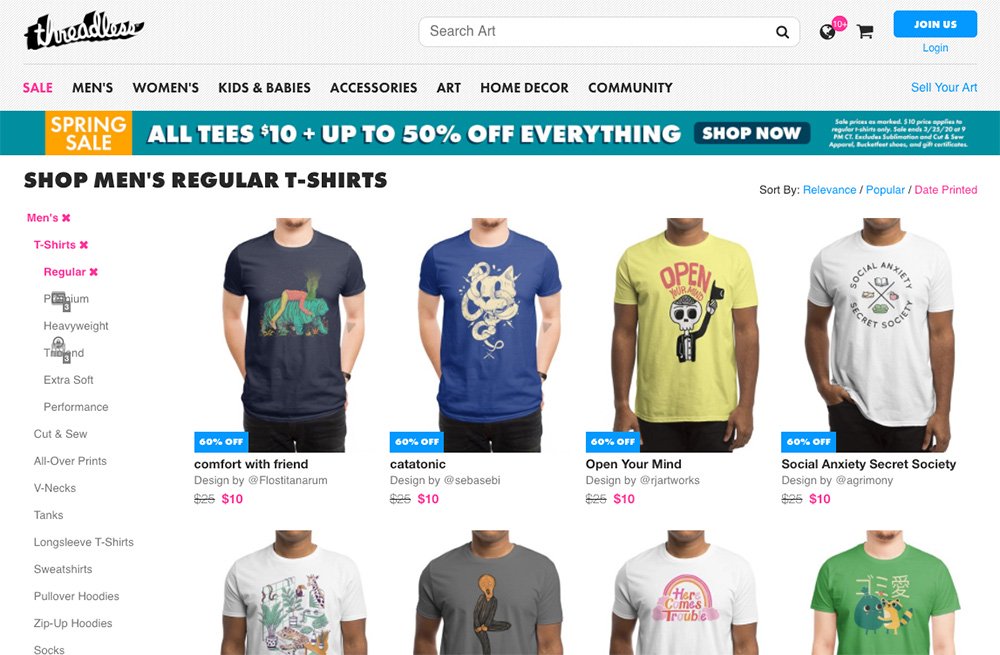 Artists can set up their shops for free and then sell their artwork without having to worry about manufacturing and fulfillment. The huge discounted and highly creative designs are the key factors that attract customers more often.
5. TeeSpring
TeeSpring is a one-stop place for all fashion enthusiasts who are looking for a place to start their business. And if you, too, have some creative ideas to showcase, then you should definitely take a look at this platform. Design your products, set the prize, and let the platform work for you.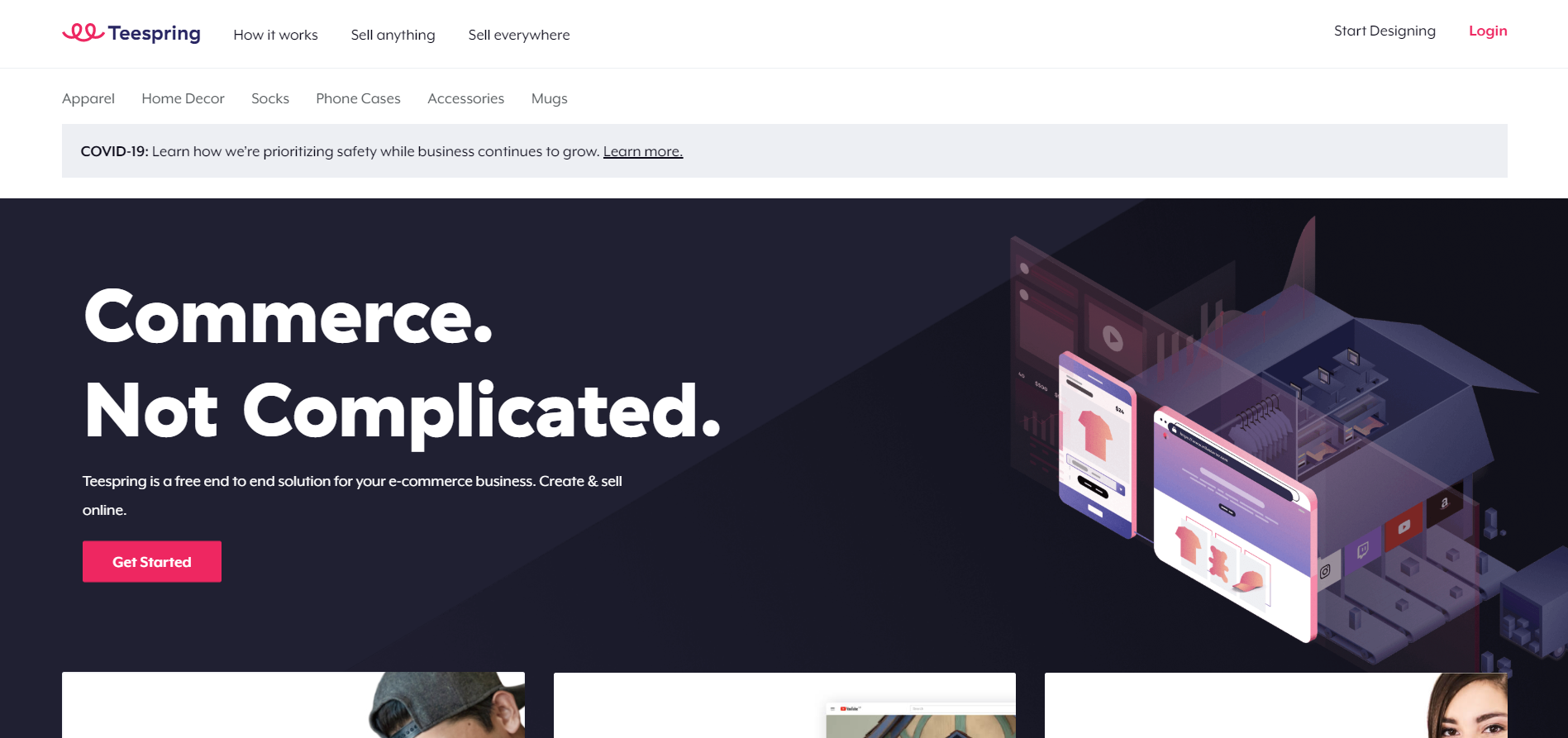 Moreover, the site features top-tier products, and you can shop for customized products for yourself. Just scroll down to the Featured collection section and click on design your own merch card.
6. SunFrog
Still looking for more alternatives to Redbubble? You can check out SunFrog for the best deals they offer. Moreover, the portal provides a vast collection of designs that are unique and of top-notch quality. Also, it comes in the lowest price range. Apart from providing pre-designed gears, the site even offers you a chance to create your own design.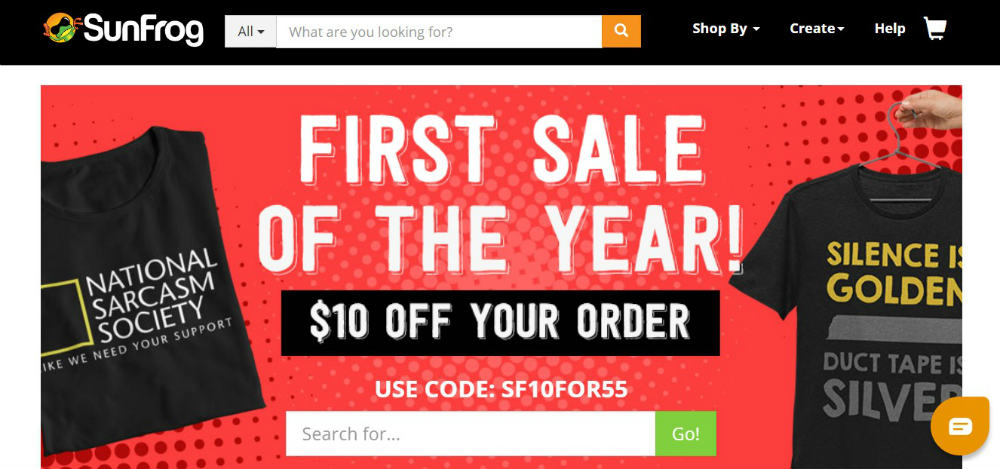 You just need to get to the create tab and then start working on your customization. You can take the help of templates as well.
7. Cafe Press
Cafe Press is said to be one of the most popular POD sites. Most of the CafePress products are based on entertainment. And thereby attracting customers of all age groups. It has a vast network of the best designers in the market. All the products manufactured are printed on-demand with special attention to detail.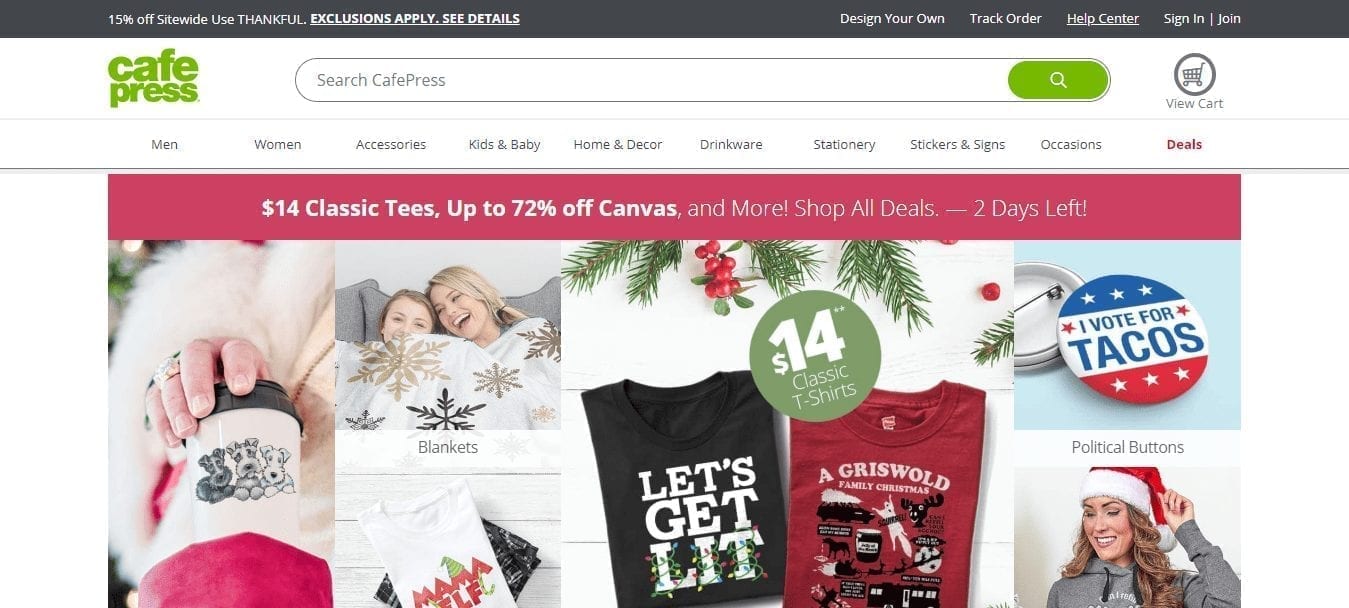 That's not all. It is considered to be one of the best gifting stores on the Internet. And we can say for sure that you will never be disappointed by their work.
8. Design By Humans
Design By Humans is a marketplace that is exclusively made for trendsetters. So, be it a student, an artist, a fashion activist, or a mere shopper, this site has an awesome collection of customized tees for all. Apart from that, they have wall arts, customized phone cases, DC and Marvel gear, and much more.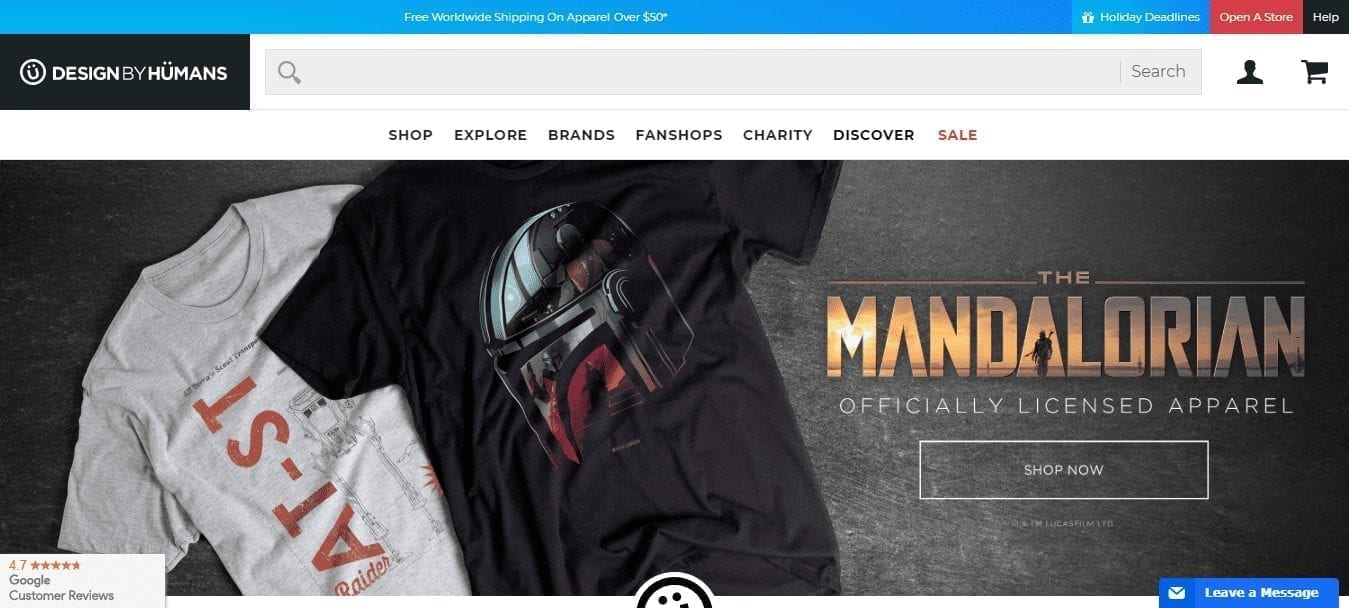 The quality of the products is worth mentioning and hence suitable for all the fanboys and average buyers who are looking for t-shirts at reasonable prices
9. Printify
If you are a designer and looking for a place to start your business, then Printify is the perfect place for you. It has some fine tools for designing, and unlike other sites, the prime focus of Printify is designers. It will work with you to create and sell your custom products. Customers do get the privilege to choose from their favorite designs.
Top 20 Sites Like Redbubble For Print-on-demand
If you are a designer and searching for a place other than Redbubble to showcase your talent and earn some money, you should take a look at these alternatives for RedBubble. These are some filtered and best print-on-demand sites available. Hence, do give them a shot.
Final Words
Here are the top 20 Print on demand sites like Redbubble. If you are an artist curious to start your brand, you can simply get to these sites and create your portal. The best part of these sites is none of the above charges the artists to upload their creations. Hence, it is the best platform to monetize your work. However, you will have to make your presence noticeable.
And as for buyers, these sites are noteworthy when looking for fresh and trendy designs. To sum up, we can say that it is an exciting experience for both buyers as well as designers.
Happy shopping!!