If you are a slither.io fan, then you must feel the urge to explore more of its awesome features. Slither.io mods will definitely let you experience all this. As you must already know that slither.io is like the classic game of snake where you need to survive by eating and slithering around on the map.
Now with mods, you can add more fun to the game by getting new skins, zooming in or out of the screen to get a better view of the map, exploring some hacks and tips, and many more things. So here we have brought for you some of the best slither.io mods which you must try and be at the top of the leaderboard.
Best Slither.io Mods 2022
As we said above, these mods are really great add-ons for your gaming experience. There are numerous mods to select from and apply in your game. Here we have listed some of the best and must-try slither.io mods for you. So go on and have fun winning the games with these helping hands.
It is one of the most useful functions of the slither.io mod, allowing gamers to zoom in and out on the map. Using this, you can interpret where you will be able to find more food cells and also help you in avoiding large enemies. You can also get the vision of a large area of the map by zooming out.
One can control the zooming by the click wheel of your mouse. It clearly gives you an upper hand over other players. Though it has been a controversial mod, now it has become one of the necessary functions of the slither.io game.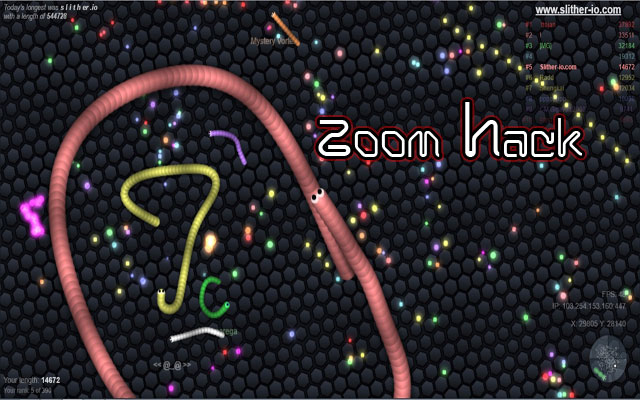 Are you a beginner and have become tired of all those experienced gamers and being eliminated repeatedly? Then you should definitely give the playing with bots option in the slither.io mod a shot. You can learn from playing like this and get hold of the game without the leaderboard giving you the burden.
Then you can slowly customize the arena as per your choice. This function is really helpful at the beginners level when the learning stage is going on, to fully enjoy the game later when you get hold of it. Last but not least, it is an amazing option to try out a new strategy and to check how the game runs on your device.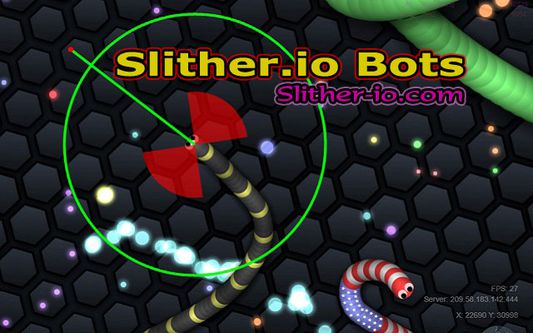 Changing and creating skins is a very interesting feature that comes in slither.io mod. There are numerous skins you can choose from, which are either added by the developers themselves through mods or are designed by the players themselves. This function has to lead to the creation of some eerie skins, from My Little Pony skins to peculiar aliens, as there is no foundation, and you can let your imagination run as wild as you want.
This is one of my favorite mods. Using this amusing mod, you can get the trill out of tricking other players with the dummy food. So basically, as the name suggests, using this mod, you will go around crawling around the map tumbling fake food, which will lure other players towards itself.
As you must already know, the snake needs to eat food to grow in size, so when other players try to eat the dummy food and their snake will not grow, they will turn around to try again. Now, this is the time when you can just trap them and eliminate them. Doesn't this sound interesting? So go on and enjoy this thrill.
Monotony can make a person sick of anything, even if it's a game. So hoping you won't face such a situation this slither.io mod offers you a change of scenery i.e. background. It has several options from which you can choose a background. You can also change these backgrounds whenever you want again and again.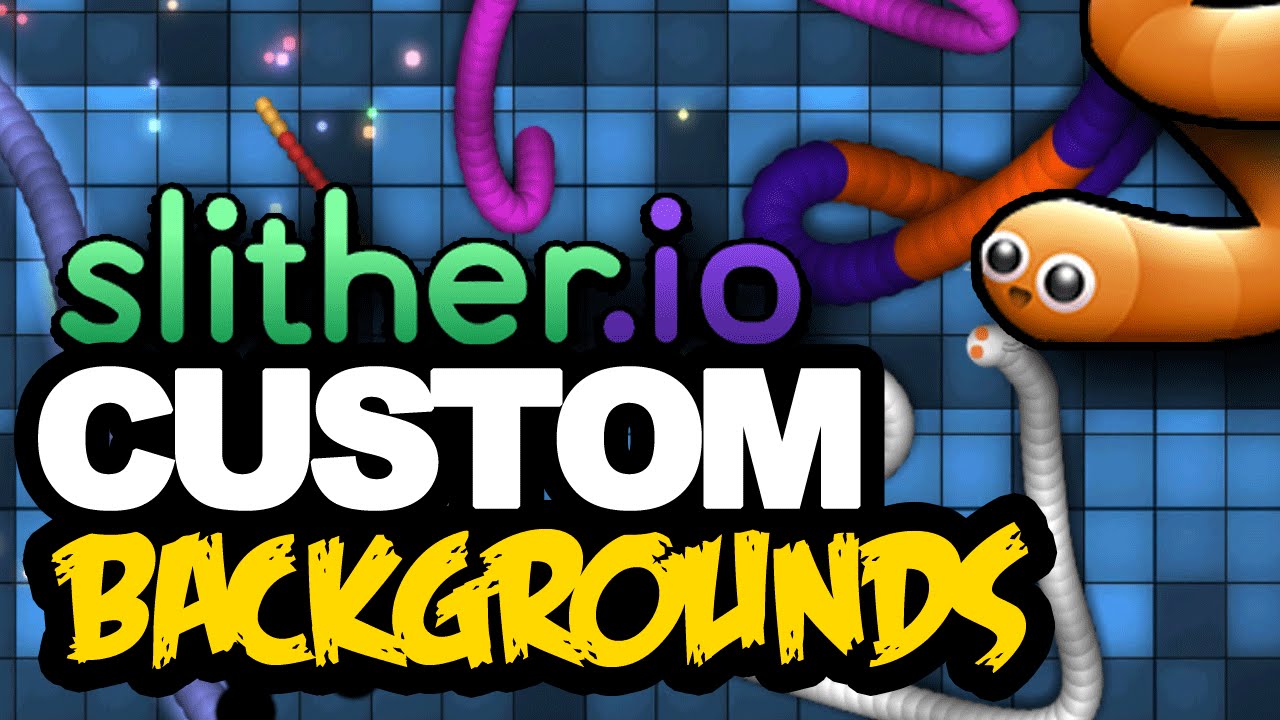 Just think what if along with changing your skin before the beginning of the game, you could also change it DURING the game? Won't this be amazing?
This slither.io mod does this for you. You can switch between skins during the game and won't need to get stuck with one skin only. Another feature is that it automatically changes the skin of your snake when you die in the game. It doesn't really contribute to winning the game but still makes it a lot more exciting.
This slither.io mod can be said to be a contrasting slither.io mod to the fake food one. This mod erases the traces of your food which is to say that it conceals the food which your snake is eyeing on. This food is only seeable to you and hence giving you the upper hand in the game as less your enemies chase the food, less will they grow, and exactly the opposite happens with you.
But there is a drawback that though the food is not visible to enemies they still can eat it if they pass over it. But still, it provides you with a great advantage during the game and you must try this out.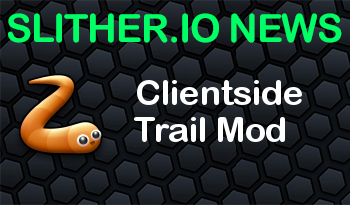 This slither.io mod attaches a sidebar in the game which has numerous mods in it. This sidebar inculcates more than thirty tailor options and skins options which you can use to modify some things in your game. There are also various variables such as the length of your snake, your rank, the total number of snakes in the game, how much food you have eaten, and other such things, which you can monitor while playing the game.
One more benefit of this mod is that you can manage the SFX( special effects) in the game, such as when you procreate, eliminate, consume food, and much more. This sidebar has an uncomplicated design.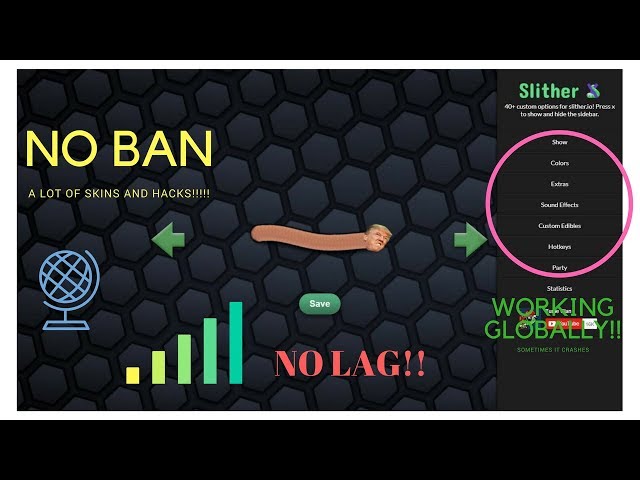 If you have a liking for Christmas, then you will also definitely like this slither.io mod. You can enjoy Christmas vibes throughout the year with the Christmas Elf, hat, snowman, Christmas tree, gift box, Santa Clause with his Reindeer, Snowflakes, and more that comes in this mod.
Not only that but there also comes a background inspired by Christmas in this mod. So you can enhance your gaming experience using this beautiful and vibrant mod.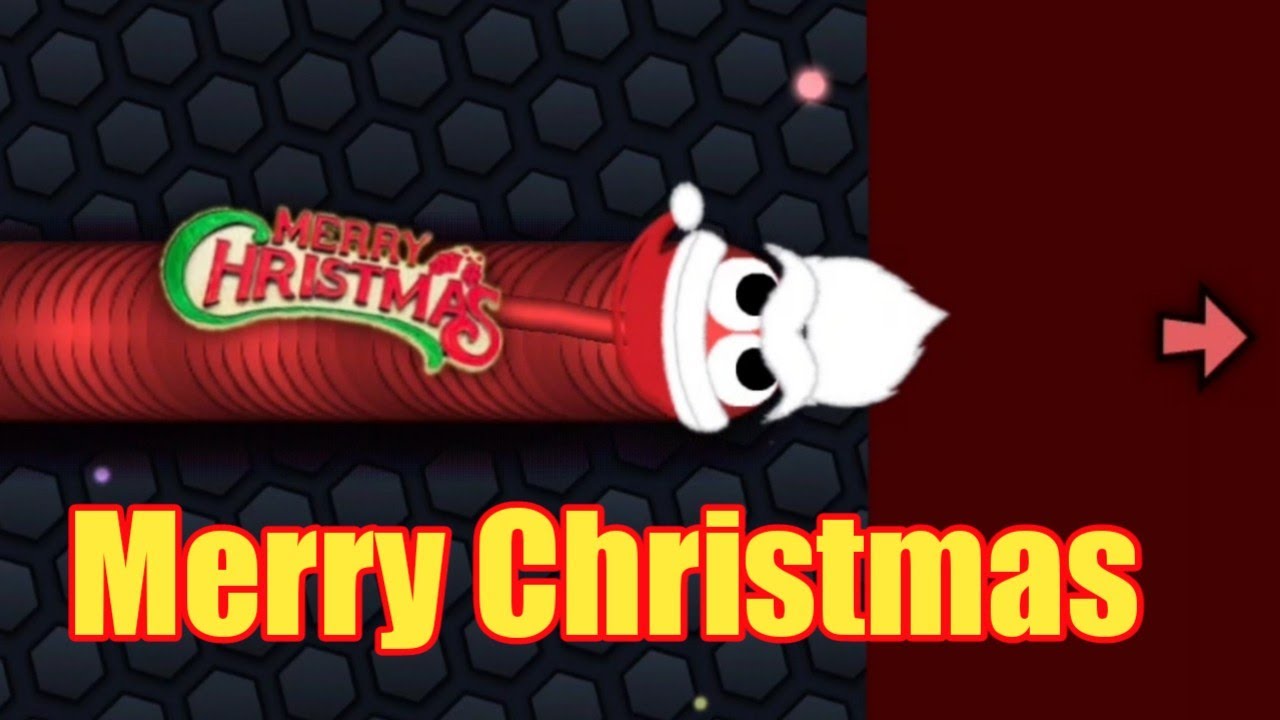 It is an updated and enhanced slither.io mod version. It inculcates various latest attributes and modifications like the new party mode, where you can literally conspire with your buddies and dominate the gameplay altogether. Also, you can keep an eye on your buddies on the battlefield and avoid being lost.
Another interesting feature is that you can assign a name, logo, and tags to your group. Snakeskins, zoom function, and HUD tuner are some other features of this mod. This is a kind of all-inclusive mod.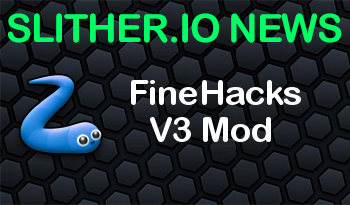 Doesn't it get really annoying when you get eliminated, and then again, you need to go through the trouble of going through the menu and selecting the server and everything? Well, this mod will save you from all this repetition and makes you auto re-spawn after you die, i.e., you are again directly put into the game without re-selecting everything.
Also Read: Skribbl.io Hack: Auto Draw & Auto Guesser 2021
Conclusion
Voila! These were some of the best slither.io mods which will improve your gaming experience and will not let you get bored of the monotonous game. So what are you waiting for? Go ahead and try out these mods and keep on enjoying slither.io.