Programming is not as hard as it seems, as many tools allow you to create your own programs with almost no skills. And these ones are great if you want to create your game. Of course, features there won't let you make something similar to cyber games available for betting at 22 Bet, but they are helpful for your start. 
1. Kodu Game Lab
Kodu Game Lab is a free program for creating 3D games. It was originally released on the Xbox 360 platform to teach children the basics of game design. So, the process there is as simple as possible.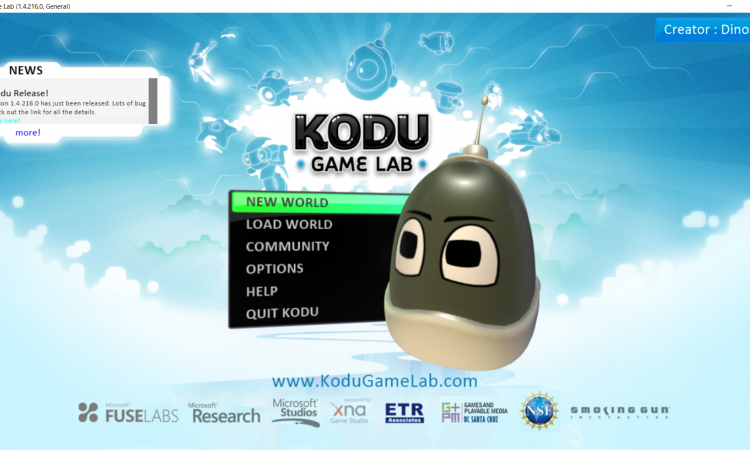 The program is a map editor with a set of ready-made 3D models, all actions are set through an interface. It does not support custom scripts and loading additional models, so its more suitable for creating a simple walker in an open world or interactive film on the map.
2. Construct 2
Construct 2 is an HTML5 based 2D game development app with a command line interface and no programming involved. Controls here are simple drag and drop and mark trigger zones.
The program contains an impressive collection of graphic elements, and also supports uploading third-party images and models. During the creation of the game, a script is generated in text form, which can be edited and expanded manually if necessary. For beginners, there are examples of ready-made games.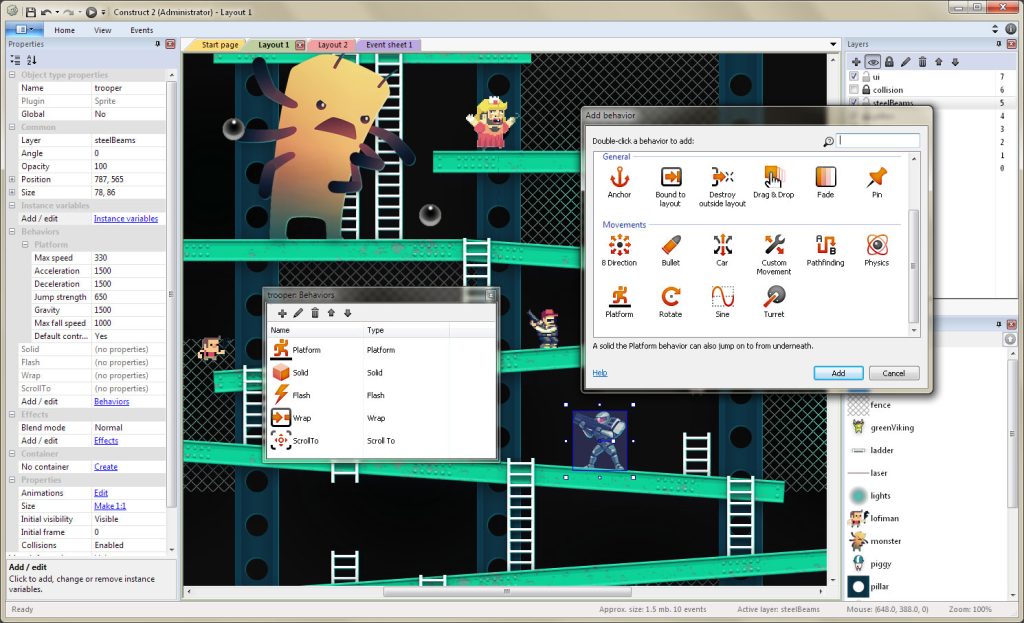 Construct is suitable for creating a 2D game of any genre, except for strategies, because it does not support the cursor. In its free version, you can export games only for the browser. The paid version allows you to create apps for PC, iOS and Android.
3. Torque 3D
Torque 3D is a game engine that allows you to create full-fledged 3D video games. To work with it also does not need to know programming languages, the whole process of development is conducted through an interface. 
The basic Torque 3D toolset is designed for creating first-person shooters, tactical strategies and races. To develop games of other genres, you need at least a minimum knowledge of C++ programming language.
4. RPGMaker
RPGMaker VX Ace is a tool to develop classic 2D role-playing games. Despite its apparent simplicity, with RPGMaker you can create large game worlds filled with characters and events.
An additional module, Game Character Hub: Portfolio Edition, can be downloaded to the basic version of the application, which gives you the ability to develop new characters and scenario sets.
5. Factile
Factile is a service for developing multiplayer games, like "The Weakest Link." It's a constructor of ready-made templates, all you have to do is come up with questions and assign a reward. Once the quiz is generated, a link becomes available to connect the participants.
To create a game in Factile, you will need to register without having to confirm your email. Just enter any address and create a password.
After registering, the service will take you to select a rate. If you don't plan to buy a subscription, use free access. When you select a tariff, the system will take you to the quiz creation window. You can connect to the service from any browser-enabled device.
6. ProProfs
ProProfs is designed to create educational games based on ready-made templates. To work with it, you need to register and confirm your phone number. The tool is fully paid, but it has a free trial period.
The following modules are available in the program:
Puzzle.

Crossword Puzzle.

Word guessing.

Answers to questions.

Quizzes.
There are multiplayer and single-player modules and games. Registration required to participate.
7. Gamefroot
Gamefroot is an online service for creating 2D mini-games. It is based on a full-fledged HTML5 game engine.
This tool is designed for children and novice game creators, so it has a simple interface and intuitive controls. Each element is accompanied by a tooltip window.
Gamefroot has a special module for writing a script with an explanation of algorithms and logic.
Games can be made here from scratch or using a ready-made template. The functionality of the engine is enough to make a multi-level platformer or daredevil.
Registration isn't required. However, authorized users can open additional templates and elements. If you want to test the features of Gamefroot, a simple login to the site is enough. And for permanent use with access to all features it makes sense to register.